Answers

Jun 05, 2018 - 10:55 AM
This is not a collection of overlays. But if I imagine you could create overlays from the images in the book with a graphics program such as Adobe PhotoShop or maybe PowerPoint.
FYI, not related but good to know... Pico's "Rotation Rulers".
Pico's automotive software has a feature that lets you measure degrees across the screen.
At timestamp 23:00, ScannerDanner drags the green dots "rulers" onto the screen to show 0 to 720 degrees. (this should start at 23:00)




He then divides the rulers into 4 partitions, one for each cylinder.

Although his version of the software in the video does not show the values for each partition, the current software does, as shown below.
Click the button to customize the rulers.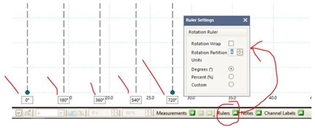 Source: Staff