Answers

Dec 28, 2017 - 11:08 AM
Yes.
But to connect the probe's BNC lead to the Snap-on scope you will need an adapter:
AES Flexible Adapter -- Stacking B-Plugs to Female BNC (AES# 08-86-F)

You can get an almost identical probe for a little less with a custom lead that will eliminate the need for an adapter:
High Current Probe with Custom Lead (AES# 07-600s).

Select a wire length and color and tell us which scope you will use it with.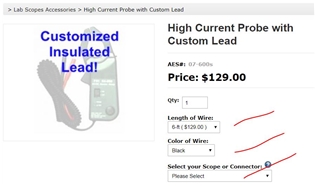 Source: Staff