Answers

Mar 07, 2017 - 08:42 AM
Honda: Yes, but...
Certain control module systems require special procedures and or hardware to be properly reprogrammed. Before proceeding ahead, check the vehicle list below.
Source:
http://techinfo.honda.com/rjanisis/pubs/web/RJAAI001_J2534.htm
Ford: Yes, but not if the module is on medium speed CAN or UBP.
Module Reprogramming & Initialization



This subscription is for downloading the Ford Module Programming (FMP) software application, which is also referred to as Webflash. This software allows subscribers to program electronic modules to the latest calibration level, perform module initialization (PATS), and set Programmable Parameters on Ford, Lincoln and Mercury vehicles.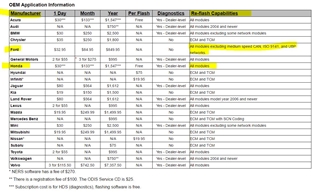 Source: KP