Answers

Sep 15, 2016 - 05:31 AM
Yes, the Pico PP264 can be used with the Fluke 90-series and 190-series ScopeMeters.

Fluke ScopeMeters use female BNCs as the inputs for each channel.
These female BNC are plastic and are subject to wear and tear.

The Pico PP264 features an insulated male BNC with a plastic housing so the wear and tear on the scope's input should be minimal. But if you use it everyday along with your other leads the Fluke's BNCs will get beat up.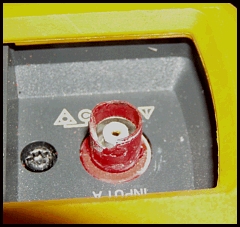 If the scope's inputs are getting beat up, use this kit of BNC savers: Fluke Scopemeter Insulated BNC adapter kit (AES# 08-98).