Answers

Jun 27, 2016 - 11:44 AM
For "ABS" and "Electronic Brake Control Module" (EBCM) systems, Autel's current coverage for GM (V8.9 as of Jun 2016) goes up to 2015/2015 models and includes the typical scan tool functions (read, erase, live data, active tests) and special functions.
Special Functions differ from model to model and include:
- S037 Automated Bleed
- S333 Pre-charge Bleed
- S480 Bleed MPA
For more details about Autel's coverage for GM:
1. Download and open the 500-page doc for V8.9: http://104.171.4.62:8800/Download/Veh/MaxiSYS/GM/en_about.pdf
2. Search (CTL-F) for a keyword such as "ABS" or "bleed" or a model "Sierra"
3. The Special Functions listed in the far right corner are defined at the end of the document.

More coverage lists for Autel available at http://www.aeswave.com/Autel
NOTE: These lists are not 100% accurate and coverage is not guaranteed.

Defnitions for Special Functions
This image shows two pages from the coverage doc.
The page on the left shows the coverage for several models, including the special functions for each system.
The page on the right is the definition for those special functions.
The definitions for special functions are listed at the end of the document.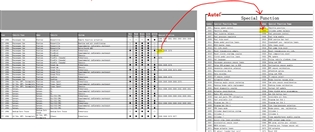 Source: Staff