Answers

Jun 21, 2016 - 09:40 AM
Currently, Techstream is only available with a subscription to TIS.
TIS has two subscription options for the aftermarket that include Techstream:
- ProfessionalDiagnostic
- SecurityProfessional
More info:
https://techinfo.toyota.com/
Their subscription support is quick to answer and very helpful: 877-762-7666.
TIS is available in three different levels, but only two include Techstream (yellow circle). The table below summarizes the features of each subscription level.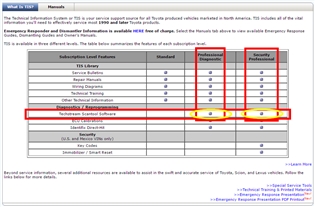 Source: Staff