Is this the same Test Lead Kit that comes with the uScope?
I see two AES brand COP paddles for sale, this universal kit and another one (01-16) COP Secondary Paddle Lead (Capacitive). Can you explain the difference between the two? Thanks
Status:
Open
Dec 21, 2015 - 04:39 PM
---
1

answer
Answers

Dec 29, 2015 - 01:56 PM
Yes, the same kit.
Source: Staff
Answer this question
View More Product Details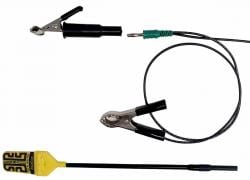 Other Questions Needing Answers