I'm just curious, where do I attach the spark plug trigger on my diesel??? (as stated in the text)
In the description for the FirstLook/ Diesel kit we are instructed to identify the offending problem cylinder by attaching the sparkplug trigger to cylinder #1. This would certainly make diesel diagnosis much easier!
Status:
Open
Dec 19, 2015 - 07:05 AM
---
1

answer
Answers

Aug 18, 2016 - 01:14 PM
Diesels do not have spark plugs.
Answer this question
View More Product Details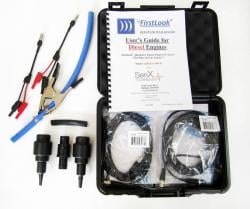 View all FirstLook ADS ES 100-D Diesel Engine Kit Questions & Answers
Other Questions Needing Answers