Answers
Jun 05, 2015 - 05:19 PM
The limitation to
engine and transmission flash programming is governed by the manufacturer. Finally, Jag/Land opened up full diagnostics and reprogramming to the aftermarket via IDS/SDD.



If Jag/Landrover allows it and you have the proper subscription then the CarDAQ-M or MongoosePro Jaguar / Land Rover will do it. (

LSID required for keys/security.)



You can register at their site for free as an "Independent Operator" to gain access to their docs:
https://topix.jaguar.jlrext.com/topix/user/loginForm

Here is what you'll see after you log in and select a vehicle. You will need a subscription to view some of the docs that are listed.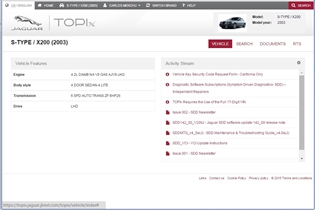 Source: Staff